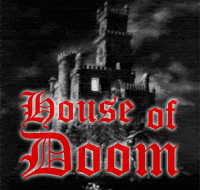 CINCINNATI AREA HAUNTED
ATTRACTIONS LISTINGS


Home
News And Reviews
Classics
Haunt Central
Madness
Forums
Links
Unsure where to turn to for a great local haunt? Check out our listing of attractions in the Cincinnati area! An inclusion in these listings does not infer quality or lack thereof. See my review page for that info! If you would like your attraction listed, reviewed, or be the subject of a feature article, email me at fearlessleaderAThouseofdoom.net !
If You're Looking For The Haunted Hospital...
...it doesn't exist! While there was an area haunt using the name (Hamilton's Haunted Hospital), it is NOT the mythical haunt everyone wants to find.
This Urban Legend has been making the rounds as a rumor for the last 30 years. No matter what your friends might say, or whoever says they know someone who has been to it, they are just wasting your time. For years we received more email asking about this mythical attraction than all the real ones put together! To see the "True Story" of the "Haunted Hospital" try the following link.
http://www.snopes2.com/horrors/mayhem/haunted.htm . For more information, read our article in Fright Times that discusses this phenomenom-it's available online.
Thankfully, with the internet and increased sophistication among haunters, this myth has largely dropped off the radar the past few years, but there are still a few diehard believers. I know it would be incredibly cool if something like this was around, but it just ain't happening...so try one of the others on the following lists!
CINCINNATI AREA HAUNTED ATTRACTIONS

NORTHERN KENTUCKY HAUNTED ATTRACTIONS