The HOD!!!'s Fearless Leader!
Home
News And Reviews
Classics
Haunt Central
Haunt Listings
Madness
Forums
Links
The Fe
arless Leader (second from the left, leaning on Igor) has been a big fan of horror since the middle 60's, and has been involved with the haunt industry since 1970. Formerly owner/operator of HAUNTED PRODUCTIONS (
a haunt consulting service that specialized in small and charity haunts along with buying/selling horror collectibles), he now devotes his Autumn hours to seeking out and reporting on the best dark attractions in the greater Cincinnati area. Fearless Leader has also written articles and columns for magazines such as Scary Monsters, Underground Entertainment, Scared Stiff, Fright Times (the official magazine of the haunted industry), and Zones Of Evil. The past several seasons he's been writing haunt reviews for both the print and on-line versions of Cincinnati's CityBeat Magazine, including "A Chronicle Written In Blood"-a short history of Cincinnati's haunted house industry from 1970 to the present. Look closely and you'll see him in the credits for the 2010 Playstation 3 and XBOX 360 releases of the vid
eo game Splatterhouse.
And just to show he's not a one trick pony, he's also active in the field of pre-modern Japanese history, popping up in the acknowledgements of several books including "Blossoms and Shadows" by NY Times Bestselling Author Lian Hearn and "Japan and her People" by Anna Hartshorne. Currently he's combining both his loves by doing historical research on the late Heian era for a very well-known horror author. An on-disc treatise on Bushido for Animeigo's release of the award-winning "Bushido: The Cruel Code of the Samurai" DVD is out there. Fearless Leader is a playable character in the PC computer games "Takeda 2" and "Takeda 3" as a general in the Uesugi army. He's also rumored to have appeared in several Japanese period films under another guise. And our pals at The Dent Schoolhouse even updated their link to the new HOD!!! site! Gosh, it sure is nice being loved.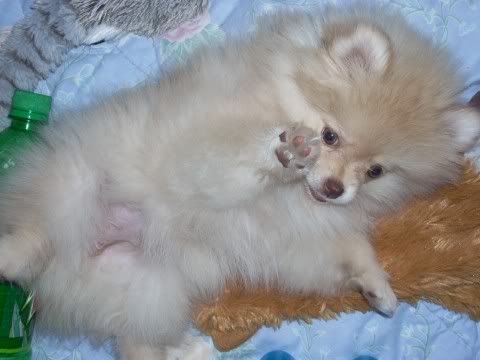 And oh yeah, let's not forget Cuddles The Demon Dog, The HOD!!!'s new mascot who's waving "Hi!" to all of our readers!


I would like to dedicate the HOUSE OF DOOM to the memory of my father Paul who passed away on Jaunuary 10, 2000. When I was a kid he always had time to bring us to the drive in to see the latest horror movies and worked hard to give his kids the things that seemed so important to them. Dad was always interested in my crazy hobbies and collecting and always was looking to pick up things for me at flea markets. Just weeks before his passing he was still driving around to pick up items for me. The most important thing he ever gave me, however, was his love and caring. He was not just my parent but a real friend. His loss is felt deeply by all that knew him.