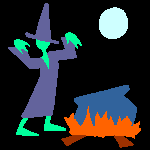 Descend Into  

  MADNESS At......
Welcome to The HOUSE OF DOOM!!! Founded in 1996, the HOD!!! was the Cincinnati area's original haunted attraction site (and to our knowledge, was the first haunt review site on the web). We focused primarily on haunts in the Greater Cincinnati area including northern Kentucky and Middletown, featuring comprehensive in depth features and interviews. With 47 (!) years of covering the local haunt scene (from the nation's first Jaycee haunt located here in 1970) both as a spectator and creator, we brought an insider's view of the haunt industry along with the perspective gained from watching it develop over the decades.
Click HERE to read CityBeat's feature on the HOD!!!
But, the transitory nature of all things being what it is, it's the right time to bring things to a close. We've greatly enjoyed the Greater Cincinnati haunt scene over the years, and all the wonderful people we've met and friends we've made while covering it. Thanks to all of them, and to everyone who's ever visited the HOD!!!. We hope our readers enjoyed the time they spent here as much as we have! Everything's fine here-no health problems, personal tragedies, or axes to grind...with many of our favorite haunts disappearing in the last couple of years, it just seems appropriate to do the same. We'll still be taking in many of the local attractions-just as a customer from here on out! Hope ta see you all!



THE 2015 SANDYLAND ACRES HAUNTED HAYRIDE

FEEEEEEEEEEEEEEEEEEEEEL The Heat!
Try Not To End Up As Meat!




Farmer Brown


Wearin' A Frown-And Takin' You DOWN!




Sandylab!


Seems Like The Farm Not Only Grows Crops, But Monsters Too!



OUTSTANDING IN THEIR FIELDS!
There aren't many attractions where you can literally come face-to-face with a severed head skewered on the end of a sword like a giant shish kebab. But Sandyland Acres Haunted Hayride is one of them! The sword is being swung around by the Headless Horseman, mounted on a stunning black horse and thundering alongside the fleeing hay wagon. He's just pursued and decapitated a man fleeing from him on foot and has turned his focus on the Sandyland wagon. The horse gallops across the wide-open field, eating up the distance between rider and wagon in a flash. Both mount and rider are quite a sight, and quite skilled to boot. The horse (let's just call it 'NightMARE') shows no sign of shying away from the rumbling wagon, and allows the horseman to close to within inches of hauntgoers taking the ride. It's no exaggeration to say that the head on his sword was closer to us than the person sitting next to us. It's one of the best scenes to be had in the Tri-State, and underlines the excellence the Haunted Hayride has demonstrated in its 10 years of operation. You could say that Sandyland is "outstanding in their fields"!


Gene and Brenda Webb along with their partners, the Stephenson family, have been running Sandyland for all of its 10 years and the attraction has continued to get bigger and better every season. Gene and Brenda live Halloween all year round, with Brenda creating many of the handcrafted items in the Spooky Gift Shop during the barren months of winter. When things warm up, they stalk the haunted woods of Sandyland, refitting some scenes and completely redoing others. This season, they built a huge pirate ship at the entrance to the haunted woods, complete with a functioning upper deck for the actors. Now, we're not sure how a pirate ship made it this far inland-maybe they mistook the name 'Sandyland' for the beach-but here they are, complete with victims and treasure dredged up from the bottom of the sea. The ship is just one of several redesigned scenes that underline Sandyland's approach to haunting-improvement every season without overreaching the show's budget and jeopardizing its future. Gene and Brenda do as much of the work here themselves as possible, and under their careful stewardship it's grown steadily every season. The hauntgoing public has taken notice and crowds are large, often keeping the event open two hours past closing. Despite losing four nights to rain this season (almost 30% of their scheduled dates), they're still having a good season.

Gene is one of those rare haunt owners that also performs as an actor at his own event. His Michael Myers and Freddy Krueger are the last word in authenticity, both in costuming and body language. Gene's logged a lot of hours watching Halloween and Elm Street movies and it shows in his performances. New this season (on Fridays) is the character of Puh-Pow!, the mallet-toting klown currently terrorizing the queue line. Unlike some haunt actors, Gene gives a completely different type of performance for each character. We didn't even realize it was him until Brenda spelled it out for us. Instead of traditional klown makeup, Puh-Pow! uses a high-end silicone mask that looks 'dead' on the real thing. It looked so natural we even asked Brenda if Gene had shaved his pate for the part!

And while Gene's having fun stalking hauntgoers, Brenda is handling the glow booth after the normal staffer didn't come in. And answering calls on two phones. And dispatching the wagons and coping with other issues via walkie-talkie. And dealing with not one but several haunt reviewers. And troubleshooting problems as they crop up. She was probably making crafts and building props when we weren't looking. Even with juggling all these responsibilities, she's obviously loving every minute of it-her cheerful attitude is infectious.

And boy, does Sandyland ever love fire! It's everywhere! Whether it's bursting from the top of a huge silo, erupting from multiple spots in the cornfield, consuming an 'exploding' gas pump, or spewing forth from pipes rising out of the hood of a juiced-up hot rod, it's up close and personal. You can feel the heat from the effects, and in the blackness of night it makes quite a spectacle.


The haunted woods that come directly after the first vehicle chase are an annual highlight, containing some of the best skits with recognizable movie characters. This season there's an outdoors Halloween scene that takes place around a gas station (where in the movies, Michael Myers stole a truck). Crazy Ralph from the first two Friday the 13th movies heralds the impending arrival of Jason, who doesn't disappoint. And a girl bursts out of the chainsaw house, being pursued by Leatherface from Texas Chainsaw Massacre...until he figures out it's easier just to climb on board a wagon filled with easier targets. The level of detail in these scenes is exceptional-there are real storefronts, Crystal Lake signs and canoe rentals, gas pumps, garages with 'cars', bait shops, junked cars from prior victims, and meat curing in the trees and property of the chainsaw house. The actors have film-accurate costuming and fit their roles-they're huge. One hauntgoing young man's jaw dropped when Jason boarded the wagon-his eyes got large and he was heard to remark, "That's one. BIG. Dude".

Generally Sandyland doesn't rely on canned music and sound effects for audio accompaniment to their scenes. Instead, they use integrated sounds-things that you would actually hear if you ran across these scenes in real life (and Heaven help you if you ever did!). Leatherface's roaring chainsaw, the Creeper's blaring car radio, the powerful engines of pursuing vehicles, the 'whoomph' of flames devouring oxygen, the clatter of the hooves of a horse on a bridge in the Headless Horseman scene, giggling klowns in the corn, sizzling electricity, and seasonal music in the Christmas from Hell scene all provide an effective soundtrack that doesn't attempt to overwhelm you with volume.

Things have come a long way way since year one, when Pumpkinseed was Sandyland's marquee character. Watching the haunt grow, change, and adapt has been an exercise in watching a capably-run attraction transform from an unknown small event into an established one with large crowds that's well-known among local media. From something as simple as putting wagon greeters in place that didn't require a full overhead mask (to allow them to easily speak and interact with the crowds) to adding new facets that blossomed (Farmer's Revenge, the Spooky Gift Shop, and the elaborate food areas) to removing those that didn't (the corn maze and being open on Sunday), Gene and Brenda have guided the event to a successful 10 year run, something very few haunts reach. There are always new wrinkles being added to the event and changes are made every year, moving some scenes, expanding others, incorporating hot new movies into the themes, and adding more fire and mechanical marauders. Speaking of which...

Sandyland's first season featured only one vehicle chase, but it was a doozy-a tractor with evil red headlights that actually rammed the wagon we were riding in! But over the years more have been added, with the current total coming in at 3 1/2. This has all but eliminated any 'dead' spots on the ride-there's something going on virtually every second of the half hour trek across the farm. The tour wastes no time ramping up the excitement, unleashing Jeepers Creepers locotruck upon the haywagons winding their way through a cornfield. His appearance is made more dramatic by having his trademark 'Jeepers Creepers' song playing over a loudspeaker in his truck. The music plays for quite some time without anything happening, seeming to come from everywhere and nowhere at once, setting an eerie tone. That is, until the Creeper's vehicle suddenly bursts from a stand of corn! Later on in the tour is the aforementioned "Terror Tractor", which does seem a lot bigger and more aggressive-it weaves left and right around the wagon, seemingly in an attempt to 'plow under' hauntgoers at an opportune moment. And right before the legendary Terror Barn (or "Sandyland Cinema", if you please) is that last 1 1/2 chase. After the wagon escapes a murderous ambush set by a group of uncoordinated but persistent backwoods boyz, they break out their 'sekrit wehpun'-the 'Hellbilly Hauler', a fire breathing monster of a truck that threatens to either ram the wagon into the adjacent cornfield or burn its occupants alive! So where does the 1/2 come in? Well, no, it's not because there's a pint-sized leprechaun driving the horrendous heap, but because after the vehicle disappears into the night-it suddenly reappears from nowhere, starting the whole cycle over!


And speaking of the 'Terror Barn', it returns this season with 3 rooms of terror, torture, and whimsy. There's a room based on historical alleged murderess
Lizzie Borden with the crazy lady herself boarding the wagon, ax in hand. I guess we can forget about that "alleged" part. A surgical-masked maniac electrocutes a women and trolls the audience for his next subject. And finally, there's our favorite, Evil Santa, Satan-a to his friends. He's determined to punish with extreme prejudice anyone who's been naughty and even threatens kids that if they misbehave he'll be "seeing YOU at the mall"!

Farmer's Revenge, Sandyland's indoor attraction that's housed in a huge old barn located next to the hayride, has taken on a more sinister tone for this season. You'll notice this immediately upon entering-there's a cool new CGI video of Sandyland's rotted, undead farmer spilling out his tale of hate and resentment to hauntgoers. This not only adds to the tour length but also will increase the customer's enjoyment of the haunt-knowing the backstory always raises a lot of questions and ex
pectations in the minds of those witnessing it. The path winding through the haunt is noticeably darker than before with more detail added to the scenes, along with a few more actors and mechanical effects. There's a nice mix of classic monsters, slashers, and original scenes. As we've mentioned in the past, Farmers Revenge has always reminded us of the funhouse-style attractions that are seen in traveling carnivals and state fairs. It's as much about fun and surprises as it is scares (although there are plenty to be had!), keeping with the family theme of the overall event.

There's a short but extremely twisty blackout maze, staffed with monsters lurking in those dark corners and other surprises for your enjoyment. The spread on the Farmer's Dinner Table is all prepared for hungry visitors...or should that be "all prepared WITH hungry visitors"? There's a seemingly empty torture chamber that proves hiding in plain sight is sometimes the best strategy. There are jumping skeletons, Dr. Frankenstein and his Monster, Werewolves, and Pinhead. A wildly spinning vortex leads into Klown Alley, where the exhibits have a life of their own. Screeching butchers make it obvious where the food on the table is coming from. An Evil Dead room features moving furniture and a couple of Deadite gals lurking behind bars, salivating at the thought of swallowing new souls. And the Farmer lurks behind the walls...watching...and waiting.


And we haven't even touched on the chainsaw-wielding dude (he's quite the 'pig-headed' one) and his sister at the Motel Hell scene, the Klown tent where a group of merry murderers assure the girls that they'll be waiting under their beds when they get home, or the mysterious glowing face in the woods. Hey, crowd favorite Mortimer Sneed's back-guess that 'Ripper' gig in London didn't work out so well for him. Did we mention all the great unique stuff you can pick up in the Spooky Gift Shop (where the prices are about half what you would pay at most attractions)? We scooped up a "Raven Under Glass" along with "Alien Eyes" and a "Changing Portrait". There's unique handmade jewelry, dolls, plates, T-shirts, blankets, tote bags, and pretty much anything you could dream up that's haunt-related. All that and a badass animated CGI display. The food is great as well-Auntie Susie's Haunted Kitchen serves it up better than any local attraction. A kettlecorn stand is right across from the Kitchen. The family friendly atmosphere and all the extras make Sandyland one of our favorite attractions-in ten years of reviewing it, we've NEVER heard anyone taking the tour complain-the only local haunt we can say that about. Sandyland has established itself as "Outstanding In Their Fields"-and if you're lucky, none of the things lurking there will decide to put you six feet under that prime farmland.



Glad To 'MEAT' You!


Hellbillies Always Have A Warm Welcome For Outsiders!




2015 EVENT INFORMATION

Sandyland Acres Haunted Hayride and Farmer's Revenge is located at 4172 Belleview Road, Petersburg, KY 41080. Take Exit 11 off of I-275 West in northern Kentucky (past the Greater Cincinnati Airport) to KY-8 South. Then just follow the Sandyland Acres signs! It's open Fridays through Saturdays from September 11th through October 31st from 8 until Midnight. Regular admission for the Hayride is $12 (with a $15 VIP available) and Farmer's Revenge is $10, with a combo w/o VIP ticket at $20. There's the Spooky Gift Shop and Auntie Susie's Haunted Kitchen food concession on site. Sponsored by ClassX 88.9 & 89.1 FM. You can learn more by visiting Sandyland's Facebook and Twitter accounts, by emailing Sandyland at sandylandacresATaol.com (replacing AT with @), calling (859) 322-0516/(859) 250-9790 or visiting the Sandyland Acres Haunted Hayride website.
THE 2015 MT. HEALTHY HAUNTED HALL
Her Awesomeness, The Queen Of Chaos


Don't Even THINK About Defying Lady Satan!




Werewolf Woods

Don't Know About You, But THEY'LL Have A Howling Good Time!




That's One Messed Up Head...


...And We're Not Talking About The One On The Table!
IT MIGHT BE A DRAG...BUT IT'S ALSO THE BEST!!!
It's been a bad year for small haunts in general and charity haunts in particular this Halloween. St. Rita's Haunted House was turned out of its longtime location by the school (who claimed the event was no longer profitable enough to host) and despite finding another location simply could not get set up in time, aborting its string of years in operation at an amazing 39. Faring somewhat better was the Dungeons of Delhi, who saw their longtime home in the Del-Fair shopping center get condemned. They managed to partner up with the Horror Hike in Lawrenceburg, now continuing on as simply "The Dungeon". Was anyone left standing? As a matter of fact, yes-the area's third major charity haunt, The Mt. Healthy Hall, is alive and well (despite what all the blood and coffins out front might have you believe). Entering their 26th season, the Hall is now the Cincinnati area's longest running haunt. Think about that for a moment-in an industry increasingly dominated by big money and corporate mega-haunts, a modest event in a quiet residential neighborhood has been doing it longer than any of them. And there's a reason for that-they're one of the most entertaining and creative haunts around, putting together often humorous, often outrageous, scenes that no other haunt in Cincinnati would even dream of trying to pull off. As their old catch phrase puts it, ""We may not be the biggest, but we certainly are THE BEST!".


Speaking of the best, longtime staffers Betty Hancock and Andy Schear explain this year's theme is "The Best of the First 25 Years". After last season's '25 Years of Keeping It Reel' extravaganza that featured a plethora of movie monsters in a haunted theater, the Hall decided to feature a collection of the greatest and most bizarre rooms from its storied history-and they've had a LOT of bizarre rooms over the years. If you missed them before, now's your chance to see them. There's the Tired Bones Retirement Castle, where old ghouls go to die (some more). It features one of our all-time favorite haunt effects-one that is as low-tech as it gets, but never loses its effectiveness. It brings the house down every time! Spookers Bar makes its triumphant return. It's the bar where the monsters not only know your name, but also where you live, so you better be generous and buy them a few rounds. Then there's the International House of Pain-we have to admit we're not sure if this is referring to the expansive torture chamber (complete with an absolutely incredible interactive electric chair where hauntgoers get to experience riding the lightning) or the dining room full of gruesome goodies for your culinary delight. Who knows? Maybe it's both-those victims have to end up SOMEWHERE, after all!


One interesting design decision that really paid off was consolidating the event's three medium-sized tents into one huge structure. For hauntgoers used to having the tents only holding a couple of scenes, it'll come as somewhat of a surprise when the tent goes on for quite some time-becoming an attraction all on its own. The space formerly taken up by the other tents was filled in with some elaborate outdoor scenes, making the haunt bigger than ever. It's a far cry from the Hall's humble beginnings as a five room haunt that only used the house back in 1990. And it's interesting that pretty much each of those original five rooms found their way into this years haunt-Jaws (the Fangface in the jail cell), Dracula, the half corpse and the Executioner, and the torture chamber.


Walking through the Hall, it's great to see all the classic rooms from the past collected into one event-often with fresh new takes on them. For example, Satan has been a mainstay at the haunt for many years. The demonic spawn has for years been able to force all hauntgoers to bow before him (albeit via some underhanded chicanery)-but this season, at times things have been a bit different. We spotted not the Prince of Darkness, but rather the Queen of Chaos-Lady Satan, every bit as imposing and fearsome as her male counterpart. Dracula continues to be a featured part of the event as he has for every season since the very first. But something's different here, too-the room is back in its traditional location complete with a victim laid out in a casket, and you still exit the room through a coffin. But Dracula is noticeably younger this season-usually only veterans Andy Schear and Dave Gerdes portray the King of the Undead, but as Andy commented as we en-count-ered the Count, it was time to give someone else a chance to carry on the tradition. The Hall's original Dracula, Carl Mack, passed away about 18 years ago and is still remembered yearly by a memorial placed in the scene. The Hall's research lab still carries on those experiments that never quite turn out right. These days the physician on call is Dr. Gratschwerf, who gives each group that enters his operating room a different maniacal performance. Everywhere you turn, there are scenes from years past, with fresh new layouts and looks-the Witch's Cauldron, The Phantom of the Opera, Norman Bates, the Kreatur
e Krate, and more.


And then there's the ubiquitous Bugster, the Hall's 'notorious derelict corpse' and patron saint of The HOD!!! You can't have a 'best of' haunt at the Hall and leave out Bug Boy, and he was here in all his grandeur. He was looking better-or is that WORSE?-than ever, and must have been doing OK in the last year (or had some luck dumpster diving). His bug-infested apartment now boasts not just one static-filled TV, but an entire cluster of them! And as you can see by the photo, even with all of those, he's in no mood to share. Some might wonder why anyone would want seven or eight TV sets with nothing on. But as Betty explains, "Sometimes he'll come to us and start talking about what he sees on the screen. He goes on and on! We just nod our heads in agreement and start to back away slowly".


Outside, there's the Hall's homemade vortex, which is moving faster than ever this season. There's a structure that features not only the aforementioned Jaws but also a hangman-and if you don't watch out, the condemned isn't the only one that might be getting taken out today. But the highlight is an expansive Crystal Lake, featuring an actual lake put together by the Hall's staff. It looks like the real thing and with the special lighting and fog drifting across the surface of the water, it's dripping with atmos-fear. While there's your garden-variety hockey-masked chainsaw killer haunting the campsite that lies beyond, the lake itself is crawling with evil wildlife. There are evil scarecrows, werewolves, and a troll lurking under the bridge you have to traverse to get across the lake. In a bit of inspired design work, you also pass by the back side of the lake later on in the tour.


Despite generally relying on actors to deliver the goods, the Hall also has its share of mechanical mayhem. The rotating floor has been around for years, the only effect of its kind locally. The elevator continues to deposit its occupants on the 13th floor (and ONLY the 13th floor)-this night it was an extra good trip since the moonlighting Reverend Rotts was thrown around the interior like a rag doll as the elevator jerkily ground its way to its destination. Lying beyond is a theater showing real movies (public domain, the cheesier the better) and you have to actually 'enter the movie' to progress. And the lady with the baby has a surprise in store for anyone that makes it as far as her room...


While the Hall still has a good supply of long-time volunteers on hand (both Betty and Andy have been there since day one), there's been some attrition over the years. It's the single biggest cause of established charity haunts closing down-the ranks of volunteers begin to dwindle as members drop out due to health concerns and family/time issues. Often events have problems replacing these staffers with new blood and end up having to close as the workload proves too much for the remaining crew. The good events groom promising youngsters to take over the reins at some point, and the Hall is no exception. These days, much of the responsibility for designing the haunt has been given to Eric Sterwerf. Eric has been working at the haunt since he was eight-an incredible 19 years in all. His first night Eric was, in his words, "...a loose rubbery head with legs sprouting out of it's neck". While that sounds pretty awesome, Eric was concerned he wasn't scaring anyone, so went home and built a pair of high-tech stilts out of coffee cans tied to his feet. This added six inches to his pint-sized frame and began his career of innovating and improving the haunt. Along with his cohort "Haunted Hall Matt" Gratsch, the two have elevated the level of acting, costuming, and creativity at the Hall, including developing the Hall's back story and website. They also continue to act at the Hall, creating memorable characters like the event's front man, Reverend Emmett Rotts, along with psychotic magician The Great AliKillzam. One of the things that sets the Hall apart is how well the long-timers work with the younger volunteers, and how they're more than willing to share creative control and responsibilities with them. Betty couldn't say enough good things about Eric, and described how he was able to put together several good-looking dead bodies for the Hall out of the most basic materials.


Tragically, the Hall lost one of its most dedicated staffers last December when Dan Meale passed away. Dan was also a day one employee, the Hall's resident mazelord, yearly pulling together the area's most well-known dark maze-the Hall's signature feature. It's debatable which is higher-the number of people who have escaped from Dan's creations, or the number of people that have freaked out and backtracked out the entrance. Dan took a lot of pride in his work, changing the maze's layout yearly and often during the middle of the haunt season. As Eric said, "His children have long since aged out of Scouts yet he continued to volunteer because he knew how important it is for children to have positive role models in their lives. Though at times his stubbornness and unique sense of humor drove me up the wall, I as well as many of the other leaders and boys looked up to him as a role model. He had a heart of gold for sure". At the time of his passing, Dan had about five more years of mazes planned out for the Hall, ensuring that his legacy will carry on for quite some time.


Mazemaster Meale proved to have the last laugh on The HOD!!! this evening. We've been going to the Hall for 20 years and over that time have gotten pretty good at negotiating the twists and turns of the labyrinth-even when it was two tents, it rarely took more than four or five minutes to get through. That wasn't the case tonight-despite knowing most of the tricks and deceptions of the maze, we were stumbling around inside for well over 20 minutes with no clue on how to get out. It got so bad we were almost ready to backtrack to the entrance or ask for help-but real haunters NEVER do that, so we persevered. We never did find the way out on our own. It was only after another patron managed to get out and stayed at the exit calling out to everyone inside with directions that we followed the flow and somehow got out. Yes, the maze was on a whole new level this year in more ways than one (you never know what might lie overhead). Somewhere, Dan Meale was laughing at our pitiful efforts!


So the Hall continues on, giving the Cincinnati area both a living history lesson in classic haunting and a kickass event. Admission can be as low as $5 with a donation of a couple of cans of soup on Sundays-an incredible bargain in this day and age for a quality haunt. And if the regular haunt isn't scary enough for you, you might want to consider visiting on October 24th. It's going to be 'drag' night, where many of the characters will be cross dressing-only the Hall would even consider such a wild idea, much less implement it! This creates some interesting quandaries. Will we be seeing Bug Girl? Will Norman Bates be dressing up as a man instead of mother? The mind boggles at the possibilities. It also allows the Hall to add to its legend-it's the only haunt in town that can legitimately claim to be a 'drag' and 'The BEST' at the same time. The Hall's insane spirit defies classification, but one thing's for sure-they're always going to deliver the maximum entertainment value for your haunt dollar.


Thanks to Eric Sterwerf for all the documents, Andy Schear, the Hall's staff and actors, and as always Betty Hancock for all their hospitality and keeping the event rolling.

2015 EVENT INFORMATION


Mt. Healthy's 26th Annual Haunted Hall is located at 7700 Seward Ave in Mt. Healthy (between Adams and Compton Rd). It is open Friday through Sunday, October 2nd-31st, 8-11 on Friday and Saturday and 7-9 on Sunday. Admission is $10, a donation of a canned good will get a $2 discount. $15 Fast Pass (no discounts) available. Soupy Sundays are in effect throughout the month-bring in two cans of soup (must be soup) on any Sunday to get $5 off your ticket. Other canned goods still get up to a $2 discount. Lights On Matinee for children will be on Sunday, October 25th from 6-6:45. Cost for the Matinee is $5, Free for 'Guardian Adults'. The Hall remains open until the last customer in line has gone through. No refunds on tickets. Sponsored by Madonna Council Knights Of Columbus and assisted by youth organizations. For more information email hauntedhallmattAThotmail.com (replacing AT with @, put 'Haunted Hall' as subject line), visit the Hall on Youtube, Facebook or Twitter, call (513) 729-1974, or visit the Mt. Healthy Haunted Hall website.