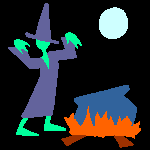 Descend Into  

  MADNESS At......
Welcome to The HOUSE OF DOOM!!! Founded in 1996, the HOD!!! was the Cincinnati area's original haunted attraction site (and to our knowledge, was the first haunt review site on the web). We focused primarily on haunts in the Greater Cincinnati area including northern Kentucky and Middletown, featuring comprehensive in depth features and interviews. With 45 (!) years of covering the local haunt scene (from the nation's first Jaycee haunt located here in 1970) both as a spectator and creator, we brought an insider's view of the haunt industry along with the perspective gained from watching it develop over the decades.
Click HERE to read CityBeat's feature on the HOD!!! We've been a featured writer for various haunt industry magazines such as FRIGHT TIMES, SCARED STIFF, and UNDERGROUND ENTERTAINMENT as well as written haunt reviews for Cincinnati's own CITYBEAT magazine. AND we're the favorite site of Bug Boy! Yeah, baby! The Fearless Leader can be emailed at fearlessleaderAThouseofdoom.net (replacing the AT with @).


Click HERE to go to the Greater Cincinnati Haunt Message Board! It's for haunt owners, actors, vendors, and anyone who wants to talk about horror in general and haunted houses in particular. Tell the world about your dark event or let us know what you think of the corner attraction-not to mention running into some of Cincinnati's most notorious haunters!
THE GATEWAY TO THE HOUSE OF DOOM!!!



Follow the HOD!!! on Twitter-you know if Bug Boy had a computer, he would!