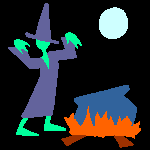 Descend Into  

  MADNESS At......
Welcome to The HOUSE OF DOOM!!! Founded in 1996, the HOD!!! was the Cincinnati area's original haunted attraction site (and to our knowledge, was the first haunt review site on the web). We focused primarily on haunts in the Greater Cincinnati area including northern Kentucky and Middletown, featuring comprehensive in depth features and interviews. With 46 (!) years of covering the local haunt scene (from the nation's first Jaycee haunt located here in 1970) both as a spectator and creator, we brought an insider's view of the haunt industry along with the perspective gained from watching it develop over the decades.
Click HERE to read CityBeat's feature on the HOD!!! We've been a featured writer for various haunt industry magazines such as FRIGHT TIMES, SCARED STIFF, and UNDERGROUND ENTERTAINMENT as well as written haunt reviews for Cincinnati's own CITYBEAT magazine. AND we're the favorite site of Bug Boy! Yeah, baby! The Fearless Leader can be emailed at fearlessleaderAThouseofdoom.net (replacing the AT with @).


Click HERE to go to the Greater Cincinnati Haunt Message Board! It's for haunt owners, actors, vendors, and anyone who wants to talk about horror in general and haunted houses in particular. Tell the world about your dark event or let us know what you think of the corner attraction-not to mention running into some of Cincinnati's most notorious haunters!
THE GATEWAY TO THE HOUSE OF DOOM!!!

Follow the HOD!!! on Twitter-you know if Bug Boy had a computer, he would!


MAULED AT THE DUNGEONS!
While the HOD!!! has taken a sabbatical as far as haunt reviews go this year, we heard about an event that was too far too cool to pass up. A troupe of wandering haunt actors (there's a disturbing thought for anyone looking out their house windows at 3 AM!) was going to be setting up shop at a Cincinnati attraction that was already well known for insane makeup designs and a group of young actors with quirky and original characters. So it was that we found ourselves on the proverbial 'dark and stormy night' of October 3rd, ready to get MAULed at the Dungeons!
The Dungeons of Delhi is in its 21st season of haunting the decrepit rear of the Del-Fair Shopping Center. The location is spookier than ever since the Thriftway store in front closed up shop several years ago (and has been used by the haunt for several 'zombie horde' videos). And the monstrous goings-on seem to extend into the haunt off-season, as 'Madd' Mark Mateikat (the Godfather of Gore and elder statesman at the Dungeons) told us. "Someone vandalized our hearse awhile back-we had it parked out front but it was moved to the loading dock and someone took a baseball bat to all the windows". While it was probably nothing more than a group of rogue street trash, the fact that it WAS a hearse makes one wonder if it might not have been a famished Dungeons zombie looking for something to eat. Nevertheless, the hearse will be back and better than ever with an improved outdoor graveyard next season. 
For this season, the Dungeons has taken the final step to 'independence', finally eliminating all of the movie monsters formerly found indoors. It's now staffed completely with original characters developed by the teens and young adults that portray them. This makes the Dungeons an intriguing blend of old-school 70's style haunting with cutting edge makeup, character design, costuming, and acting. Many of the scenes were changed for this season-Madd Mark's twisted progeny, the equally twisted Madd Matt, has seen the size of his greeting room doubled and it's now outfitted with the Dungeon's most elaborate animatronic-the venerable Distortions Electric Chair, a classic of which few are found in working order around the country. The room still doesn't seem big enough to suit Matt, as he's constantly bursting out of the front door, chainsaw in hand, and chasing down new victims.
Other new areas include a zombie cornfield and butcher shop-in fact, during our tour, we were joined by the actor playing the butcher, who took particular interest in how someone else was working his scene. There's a new extended blackout area leading up to the infamous 'cabin in the woods'. There were also a couple of new rooms that took...shall we say...non-traditional approaches to design change...
The Dungeons continues to have the most unique and terrifying looking characters in the area, thanks to the efforts of makeup artist Andrea Pickerell and her crew of talented colleagues. This year, we were blown away by their work on the Evil Fairies-one of those non-traditional designs we mentioned. Now, you wouldn't think in a world of serial killers, vampires, zombies, massive undead scarecrows, Satan, and klowns that fairies would be particularly scary. But you'd be wrong-THESE fairies are the most terrifying and twisted fantasy creatures you're ever likely to run across! Sporting wings, 'wide open' mouths full of jagged fangs, and blank eyes straight from hell, the actresses playing the characters relentlessly circle hauntgoers. Coming close and then moving away, they torment their victims well past their own 'terror-tory' and into the next hallway. It's a perfect example of how the confluence of makeup and acting skill combine to create a memorable scene.  
Then there's the Alice In Wonderland room. Madd Mark decided this year that it was time to do away with the Dungeon's nursery (a longtime favorite of the HOD!!!). "The girls in there are 18 now-it was time to do something else!" he laughed. The actresses protested but turned around and made themselves The Mad Hatter and Alice from Alice in Wonderland. Again, not so scary, right? But again, it was. The Hatter has never been more sinister-especially with playing cards sticking out of wicked slashes in her cheeks. With a table full of assorted poisons and deadly drugs, it appears poor Alice (tied to a chair and trying frantically to escape) isn't going to have an easy time of it. The Hatter does an outstanding job of interacting with hauntgoers, engaging them in long and totally bizarre conversations Lewis Carroll would be proud of! And whatever you do, don't let her talk you into swallowing those pills she's offering... 
They join the remaining scenes, brought to life by the rest of the crazies roaming the halls. The 'Words Kill' room has an unbelievable screamer-the best we've ever heard for volume, intensity, and longevity (she held an insanely loud scream at peak volume for well over thirty seconds!). Mean 'ol Mz. Kilburn in the schoolroom made us squeeze our adult frame into a tiny desk made for first graders-and even worse, gave us homework! Demons infesting the cabin in the woods contorted and slithered around in ways we hadn't thought were possible. The junkyard klowns have 'carved' out a name for themselves the past few seasons. And we really don't know how to describe Wild Child, the animal-like dervish with LED's on his feet and the high pitched voice-but it sure is amazing to watch him in action! The zombie cage, medical ward, insane asylum, the 'skinner' household, crypt, Hell, the trophy hall, the voodoo area, and the vortex all hold their share of demented denizens. The actors at the Dungeons throw everything they have into their characters, giving them a realism and intensity you'll rarely see elsewhere. And they were about to be joined by some titans of the haunt world...
MAUL (an acronym for Mobile Actors United Legion) was founded earlier this season by Jim Millspaugh and Jason Henry, gathering many of the area's best known haunt actors from attractions as well known as the Dent Schoolhouse and the Indy Scream Park. It allows these haunt veterans to work at several attractions during the season, and also creative freedom over their roles and characters-something that has gotten more difficult as many haunts tighten up their theming. They're having a successful first season, being booked up through Halloween. They invaded the Dungeons for the weekend to deliver double the terror.
Among the MAUL crew, we were pleased to see several old friends from Dent haunting the Dungeons this evening, including Damien Reaper, Fatso the Clown, Calliope, and the original icon, Bludzo (lured out of semi-retirement for the occasion). Whether they were inside the haunt or working the queue line, these pros impressed not only the hauntgoers (many of who already recognized them and called them by their character's name) but the actors from the Dungeons! It was a great chance for the younger actors to pick up new scare techniques from the veterans, and the veterans in turn to watch the next generation of actors display their stuff. For Damien and Fatso the evening was particularly special because they both got their start at the Dungeons years ago. In a nice touch, the Dungeons gave Damien the throne of honor in Hell, allowing him to do what he does best-hand out damnation to one and all. He's kind of like the Santa Claus of Halloween!
Having Damien there also allowed the HOD!!! to carry on the annual tradition of having the longtime actor give his thoughts on the haunt environment:
"It was 1998 when I began, 16 years of travel leading back to the first place where my haunted house career started-the Dungeons of Delhi. Even though it's staffed with newer faces who are much younger than I am, I felt like a proud Grandfather watching all these young people create their own gimmicks as Fatso, myself and Bludzo did when we were starting out a long time ago. 
Jim and Jason (of MAUL) are leaders who know the business and are real pros who hand picked people who have the passion for haunt acting. We have been friends for years, but now have a common goal-to have fun and be proud of ourselves. We are truly a family, paid or volunteer. We just wanna kick butt and MAUL this world." 
Meanwhile, Calliope, Fatso, and Bludzo were working the line and clearly enjoying unleashing their signature characters again. Fatso had his full bag of tricks on display (you wouldn't BELIEVE the amazing variety of stuff he carries with him to entertain the crowd). Whether he was sticking an icepick up his nose, driving nails into his nostrils, or slapping stickers on unwary former haunt reviewers, he brought to mind the days when Dave Espich's Frankenstein entertained the crowds at the Dungeons with similar sideshow magic. Fatso even found Calliope's old magic thumb, allowing her to set her fingers on fire for the amusement of hauntgoers. Bludzo surveyed the chaos and declared that this was what haunting was all about-expressing yourself, having a great time, and entertaining the crowd. The world's most evil Klown also revealed he's working part-time at a local seasonal Halloween store to indulge his love of the season. So if you're shopping for a costume and the employee helping you out seems just a little TOO happy...TOO intense...and TOO bloody...don't turn your back on him. Evil Klowns gotta eat too, y'know, and it gets messy at times. Don't say we didn't warn ya.
While it was harder to tell who was Dungeons and who was MAUL inside the haunt, one of the MAUL actors (who we're calling the 'badass long-arm creature') was a standout inside, portraying a hellish being not unlike Zendar (the Dungeon's towering human spider) from last season. Having a mask facing UPWARDS on the top of her head gave her a unique look, working with her costuming to make it look like what was inside couldn't possibly be human. Combined with the eerie sounds she was making, it was a character that stuck in our heads.
The crowds at the Dungeons, even early in October, were overflowing the queue line-great to see for the longtime charity haunt, and even better for the MAUL actors working the line, giving them ample opportunity to ply their trade. For the moment, they were mostly rocking the outside and the Dungeons crew mostly the inside. But wherever you were, the team-up was a head-bashing success. Haunt actors old and new made the night that hauntgoers were MAULed at the Dungeons one for the ages!
ROLL CALL OF THE DAMNED AT THE DUNGEONS OF DELHI
Mark Mateikat-aka 'Pops'/Madd Mark
Matt Mateikat aka Madd Matt
Katelyn Williams aka Raven
Maddy Schaefer
Hope Hollinsworth
Nickie Kersey aka Miss Kilburn
Jessica Larkin aka Alice
Holly Ahrman aka Hattress
Dan Lubrecht aka The Reaper
Sammy Redden
Tyler Kersey
Dylan Kersey
Melissa Rothert
Zac May
Eric Wukusick aka Psycho
Kelsey Tritschler aka skitzo
Ariel Riley aka Lulu
Abigail Stevenson
Jim Basil aka Scarecrow Grimm
Katie Wandstrat
Brittany Marksberry
Heather Cook
Morgan Essen aka Crazy Clara
Sydney Terry
Alex Anderson
Hannah Basil
Kiley Johnson
Karra Holman
Alex Piotrowski aka Peek-A-Boo
Matt Salter
Wild Child
The Sic Wit It Crew
For more information on the Dungeons, click HERE to go to their website!
THE LEGENDS OF MAUL
Jim Millspaugh-Co-Founder as Dr. D. Kay
Jason Henry-Co-Founder as Chaos
Jason's daughter Ella played Slicer
Kirby Hilyard-Rellik
Zach Foster-Slit Castle
Julie Candelaresi-Bonnie Bones
Julie Langenderfer-Calliope
Rebecca Minges-Dolly
Dan Leopold-Fatso
Dave Hughes-Patchwork
Teresa Campbell-Banshe
Lindsey Wagner-badass long-armed creature
Damien Reaper as Classic Damien Reaper
And introducing Bludzo as The Beaver
Not at DOD but part of the crew-Kris Sheeley, Wendy Smith, Nate Deadwood, Wendy Ferris, Anna Klimczewski and Jackie Steinert
To contact MAUL, give a shout out on their Facebook page